Paolo Armao – Designing Sound for Animation
"Paolo Armao – Designing Sound for Animation" – Domenica 12 maggio 2019
Workshop con Paolo Armao presso la sede di Milano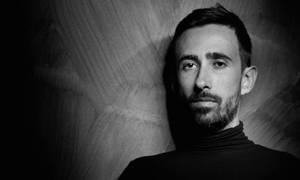 BIOGRAFIA:
Paolo Armao (1982) è Sound Designer e Production Manager con esperienza internazionale. I suoi lavori si estendono attraverso tutto lo spettro dei 'visual media', dal cinema, alle performance interattive, ai video games.
In qualità di creative audio designer, è specializzato in tecniche di narrazione, estetica del sonoro, e presenta altresì un forte background nella ricerca e analisi con pubblicazioni di articoli accademici e su riviste di settore.
Uno specialista nell'avviamento di progetti, Paolo ha giocato un ruolo fondamentale nella definizione della missione e della filosofia di Experimental Film Virginia (US). Ha collaborato con Studio Azzurro curando la sonorizzazione della mostra "Fare Gli Italiani", realizzata in occasione del 150° Anniversario dell'Unità d'Italia.
Ha studiato alla School Of Sound e con David Sonnenschein, e ha tenuto conferenze in diverse occasioni tra le quali: Experimental Film Virginia, Taipei National University of the Arts, Università di Torino, Scuola Nazionale di Cinema – dipartimento di animazione.
WORKSHOP:
DESIGNING SOUND FOR ANIMATION
L'animazione è da sempre uno dei contesti che offre al sound design grandi spunti per la ricerca e la sperimentazione.
Partiremo dalla definizione del workflow e dell'estetica sulla base delle indicazioni fornite da registi e producer, analizzando i diversi processi di produzione di effetti sonori – dalla rumoristica alla sintesi.
Ragioneremo infine su come tutte queste tecniche produttive possano essere applicate al mondo del gaming.
Workshop con Paolo Armao
Info e Ammissioni
Workshop aperto a tutti presso la sede di Milano.
Si richiede la conoscenza della DAW Reaper e dei processi di produzione audio per media lineari.
Ore Totali del Workshop
1 giornata da 8 ore (ore 09:30-13:30 / 14:30-18:30).
Domenica 12 maggio 2019
Costo del Workshop